Review
Open Access
Open Peer Review
This article has Open Peer Review reports available.
Fabry nephropathy: a review – how can we optimize the management of Fabry nephropathy?
Received: 5 November 2013
Accepted: 11 April 2014
Published: 6 May 2014
Abstract
Fabry disease is a rare, X-linked, lysosomal storage disease caused by mutations in the gene encoding the enzyme alpha-galactosidase A. Complete or partial deficiency in this enzyme leads to intracellular accumulation of globotriaosylceramide (Gb3) and related glycosphingolipids in many cell types throughout the body, including the kidney. Progressive accumulation of Gb3 in podocytes, epithelial cells and the tubular cells of the distal tubule and loop of Henle contribute to the renal symptoms of Fabry disease, which manifest as proteinuria and reduced glomerular filtration rate leading to chronic kidney disease and progression to end-stage renal disease. Early diagnosis and timely initiation of treatment of Fabry renal disease is an important facet of disease management. Initiating treatment with enzyme replacement therapy (ERT; agalsidase alfa, Replagal®, Shire; agalsidase beta, Fabrazyme®, Genzyme) as part of a comprehensive strategy to prevent complications of the disease, may be beneficial in stabilizing renal function or slowing its decline. Early initiation of ERT may also be more effective than initiating therapy in patients with more advanced disease. Several strategies are required to complement the use of ERT and treat the myriad of associated symptoms and organ involvements. In particular, patients with renal Fabry disease are at risk of cardiovascular events, such as high blood pressure, cardiac arrhythmias and stroke. This review discusses the management of renal involvement in Fabry disease, including diagnosis, treatments, and follow-up, and explores recent advances in the use of biomarkers to assist with diagnosis, monitoring disease progression and response to treatment.
Keywords
Fabry diseaseDiagnosisManagementNephropathyEnzyme replacement therapy
Review
Fabry disease is a rare, X-linked, lysosomal storage disease (OMIM #301500) caused by mutations in the gene encoding the acid hydrolase enzyme alpha-galactosidase A (EC 3.2.1.22), which catalyses removal of a galactose moiety from neutral sphyngolipids, predominantly globotriaosylceramide (Gb3). Deficiency in this enzyme causes intracellular accumulation of Gb3 and related glycosphingolipids in a wide range of cell types throughout the body [1]. The major clinical manifestations include pain in the hands and feet (acroparaesthesia), angiokeratoma, as well as renal, cardiac, and cerebrovascular disease [2].
The Fabry Outcome Survey (FOS; sponsored by Shire) [2], and Fabry Registry (sponsored by Genzyme) [3–5] are databases established to collect longitudinal data on Fabry disease. These databases have shown a long delay between the onset of initial symptoms and a diagnosis. For example, within the Fabry Registry, median ages for initial onset of symptoms and a diagnosis were 9 and 23 years in males, and 13 and 32 years in females, respectively [3]. Many paediatric patients (aged <19 years) with Fabry disease report early symptoms. At enrolment in the Fabry Registry (median age, 12 years; n = 352), 77% of males and 51% of females had symptoms or signs of Fabry disease, including some patients who had already developed stage-2 or -3 chronic kidney disease (CKD; n = 3) [4]. Assessment of the renal morphological changes in Fabry disease using light microscopy and electron microscopy in 9 symptomatic paediatric patients (7 males, 2 females; 7–18 years) revealed glomerular and vascular changes despite normal renal function [6]. The combination of acroparasthesia, mild albuminuria, glomerular endothelial cell deposits, and arteriopathy may indicate a more severe phenotype [6].
Classically affected males with Fabry disease develop overt proteinuria and progressive renal impairment by the second-to-fifth decades of life [5]. Females with Fabry disease also have a significant risk of major organ involvement. Among adult females with estimated glomerular filtration rate (eGFR) data (n = 638), 62.5% had an eGFR <90 ml/min/1.73 m2 and 19.0% had an eGFR <60 ml/min/1.73 m2[5]. Approximately 30–35% of females with Fabry disease have proteinuria [7, 8], 13% have stage 3 CKD [9] and 1–4% have end-stage renal disease (ESRD) [5, 10].
A wide range of renal histopathology is found in Fabry disease [11]. All cell types within the kidney are affected, even in patients with normal GFR and minimal proteinuria [12]. Vacuolization of podocytes and epithelial cells is characteristic of Fabry disease, with mesangial expansion and progressive segmental and global glomerulosclerosis also observed [12–15]. It is becoming increasingly clear that podocytes have an important role in proteinuria. In a study of renal histology conducted prior to enzyme replacement therapy (ERT) in 14 young patients (age range: 4–19 years), podocyte Gb3 inclusion volume and density was shown to increase with age [16]. Podocyte foot process width also increased with age and was directly correlated with proteinuria. In the same study, endothelial fenestrations were reduced, indicating a central role for podocytes in the development and progression of Fabry nephropathy [16]. Additionally, accumulation of Gb3 in tubular cells in the distal tubule and loop of Henle may also contribute to some of the early renal symptoms of Fabry renal disease [17, 18].
The pathogenesis of Fabry renal disease is not fully understood and is likely to be multifactorial (Figure
1
). Progressive intracellular accumulation of Gb
3
leads to cellular changes and histological damage. Deposition of Gb
3
can promote vascular smooth muscle cell proliferation and the release of mediators involved in the pathogenesis of other nephropathies [
19
]. Other factors considered to be involved in the pathophysiology are the rupture of the lysosome [
20
] and damage due to local inflammation [
21
]. Furthermore, addition of Gb
3
to cultured endothelial cells has been found to increase oxidative stress as demonstrated by an increase in reactive oxygen species and up-regulation of the expression of cell adhesion molecules [
22
]. Vasculopathy has also been observed in patients with Fabry disease that may be due to the local up-regulation of the renin–angiotensin system (RAS) [
23
].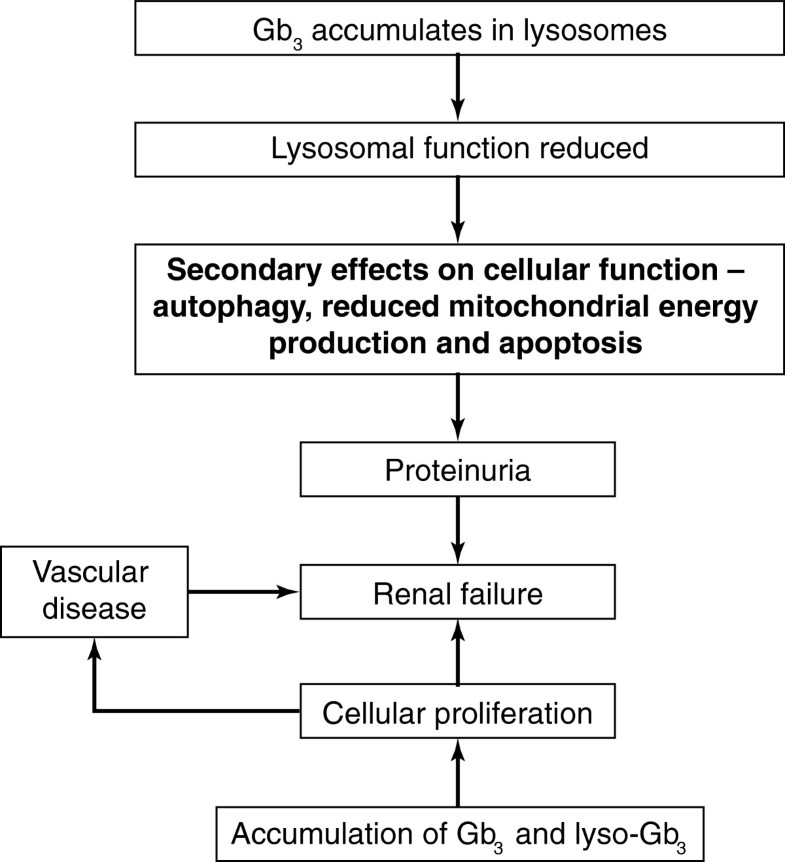 Glomerular sclerosis and tubulo-interstitial fibrosis are the histological features that best correlate with the progression of renal disease in humans with Fabry disease [24]. As already mentioned, accumulation of Gb3 in podocytes plays an important role in the pathogenesis of glomerular damage. A human podocyte model of Fabry disease was developed using RNA interference to reduce alpha-galactosidase A expression. Accumulation of Gb3 was accompanied by an increase in autophagosomes, suggesting that deregulated autophagy pathways have some involvement in the pathogenesis of glomerular damage in Fabry disease [25].
Progression to ESRD results in the need for renal replacement therapy (RRT) [26]. The extra-renal manifestations of Fabry disease persist in patients receiving RRT [27]. Renal failure increases the risk of cardiovascular events and, consequently, those who develop ESRD are at a greater risk of experiencing cardiovascular events and strokes than patients with Fabry disease overall [8]. Indeed, cardiovascular disease is the most common cause of death in patients with Fabry disease [28].
Diagnosis and assessment of Fabry nephropathy
The American College of Medical Genetics and the National Society of Genetic Counselors have issued guidelines on the diagnostic confirmation of lysosomal storage disorders, including Fabry disease [
29
]. Enzymatic analyses of dried blood spots allow population screening and an initial diagnosis in males [
30
], whilst in heterozygous females, in whom alpha-galactosidase A activity is highly variable, genotyping is essential for a diagnosis. Genotyping can also be useful in male patients to assist with tracing family history of the disease. Urine microscopy may be clinically useful in diagnosing Fabry disease: vacuolated epithelial cells, filled with glycosphingolipids, giving the appearance of a 'Maltese cross', can be seen using polarized light microscopy [
31
]. Assessment of renal Fabry disease involves several assessments and tools (Table
1
), with renal biopsy being particularly important to assess and monitor disease progression long term [
32
]. It has been reported that globotriaosylsphingosine (lyso-Gb
3
), a product of Gb
3
metabolism, is elevated in male patients with Fabry disease and that it can be a useful marker in secondary screening to differentiate mutations of the alpha-galactosidase A gene causing Fabry disease from those not causing disease [
33
].
Table 1
Recommendations for the management of Fabry renal disease in adults
| | Recommendations |
| --- | --- |
| Diagnosis and assessments | |
| Confirm diagnosis | • Confirm presence of Fabry disease (by enzyme analysis in males and by gene mutation studies in females) |
| | • GFR <90 ml/min/1.73 m2 (CKD stage 1–5) |
| | • Proteinuria: >30 mg/day or >30 mg/g creatinine (albuminuria); >300 mg/day or >300 mg/g creatinine (proteinuria) |
| | • Other renal conditions excluded rigorously (even if a renal biopsy is needed to make that exclusion) |
| Kidney biopsy | • Histological injury can precede clinical signs, and provides a compelling indication for institution of ERT, especially in children and young adults |
| | • Excludes other conditions (especially in patients with atypical presentations) |
| | • Confirms the diagnosis and stage and can be used to assess response to therapy |
| Initial assessment and follow-up | • Measure serum creatinine and use CKD-EPI equation to estimate the GFR |
| | • Use iohexol plasma clearance or isotopic methods (depending on local availability) for precise measurement of the GFR if the eGFR >60 ml/min/1.73 m2 |
| | • Standard CKD assessment schedule |
| | • Quantify urinary albumin and protein levels |
| | • Calculate eGFR slope |
| Treatment | |
| ERT | • Agalsidase alfa or beta at approved dose |
| | • Start ERT as soon as the definitive diagnosis has been made in patients with little or no residual enzyme activity |
| | • Start ERT as soon as the definitive diagnosis has been made in patients with residual enzyme activity if there is evidence of kidney involvement |
| | • ERT will not reduce proteinuria (in adults) |
| Control of proteinuria | • Use ACE inhibitors and/or ARBs in addition to ERT |
| | • Titrate doses to achieve urine protein <500 mg/day, even if blood pressure <130/180 mmHg |
| | • Effects on progression are likely to occur only in the setting of optimal ERT dosing |
| Other therapy | • All other aspects of standard CKD care apply to the management of Fabry renal disease |
A new classification for Fabry disease has recently been proposed based on the functional characterization of GLA mutations. Lucas et al. correlated enzyme activity levels with specific mutational effects on the enzyme's three-dimensional structure and the resulting alteration in function. It has been proposed that this classification will facilitate the diagnosis of Fabry disease, especially when combined with biomarker data such as lyso-Gb3 levels [35]. The proposed system of classification may help with the so-called late onset single organ phenotypes, some of which may not be clinically insignificant.
Management of Fabry renal disease
Areas for further research
Chaperon molecules
An investigational therapeutic strategy, which is currently being explored, is the use of chaperon molecules to stabilize the chemical structure of the residual agalsidase alfa or to prolong the half-life of the infused enzyme [96, 97]. At present, clinical studies in Fabry patients are very limited and as yet no licensed chaperone drugs are available [98].
Biomarkers
Biomarkers have an important role in the assessment of disease activity and response to treatment in other lysosomal storage diseases. However, despite encouraging research, a biomarker has yet to be identified that is relevant to clinical outcomes in Fabry disease [67, 75, 99]. Nevertheless, biomarkers may play an important part as indicators of diagnosis and when to commence therapy in Fabry disease patients. They may also be useful in determining the progression of Fabry disease. Urinary protein and albumin excretion are the most important biomarkers of Fabry disease nephropathy [36, 44]. Urinary Gb3 levels are consistently elevated in most patients with Fabry disease (although marked inter-patient variability has been observed). Urinary Gb3 levels decrease during ERT in men, women, and children with Fabry disease. However, despite this response, urinary Gb3 cannot be considered to be a suitable biomarker of clinical efficacy because baseline levels do not correlate with disease severity, and do not predict clinical efficacy [100].
Recently, plasma [101] and urinary [102] lyso-Gb3 have been identified as new potential biomarkers. In a study of 10 male and 8 female patients with Fabry disease, plasma lyso-Gb3 was increased in males, and was higher in cases of the classic form of Fabry disease than in variant Fabry hemizygotes [101]. In females, plasma lyso-Gb3 was moderately increased in symptomatic and asymptomatic cases, with a correlation between the increase in plasma lyso-Gb3 and decrease in alpha-galactosidase A activity. Lyso-Gb3 analogues were also isolated in the urine of 63 patients with Fabry disease [102]. Increased urinary excretion of lyso-Gb3 in patients with Fabry disease correlated well with several indicators of disease severity, and may be a reliable independent biomarker for the clinically important characteristics of Fabry disease. However, there was no correlation between urinary lyso-Gb3 and eGFR. Therefore, one cannot assume that lyso-Gb3 is a reliable biomarker of renal involvement [101].
In 2012, Rombach et al. confirmed elevated levels of lyso-Gb3 in the plasma and/or urine of patients with Fabry disease and described a reduction of plasma levels of lyso-Gb3 after 1 year of ERT [75]. This decline in lyso-Gb3 was associated with a reduction in left ventricular mass in females and a lower risk of developing white matter lesions in the nervous system for both sexes [75]. Recently, new potential biomarkers, Gb3 analogues, have been identified in the plasma of untreated male Fabry disease patients, but their clinical meaning still has to be validated [103].
The utility of Cystatin C as a biomarker in Fabry disease has also been evaluated [104]. In an observational, multicentre study of 89 patients (n = 42 females; n = 47 males) with Fabry disease and varying degrees of disease severity, serum Cystatin C levels were measured. The authors concluded that Cystatin C is a good and cost-effective prognostic indicator of early renal dysfunction and/or heart failure in Fabry disease [104].
Urinary uromodulin excretion has been examined in 15 male patients with Fabry disease [105]. In untreated patients, changes ranged from a normal to marked decrease or absence of urinary uromodulin frequently accompanied by aberrantly processed uromodulin. These patterns normalized in all patients on ERT and some on substrate reduction therapy. This suggests that uromodulin may also be a potential biochemical marker of renal therapeutic response to ERT.
Urine proteomic analysis based on capillary electrophoresis coupled to mass spectrometry has recently been used to identify a biomarker profile in patients with Fabry disease [106]. In 35 treatment-naïve adult female patients with Fabry disease an abnormal urine profile was identified, which was almost completely corrected following ERT [106]. A further two protein biomarkers have been identified in the urine of children with Fabry disease and type-1 diabetes using label-free quantitative proteomics. Prosaposin and ganglioside GM2 activator protein were significantly elevated in patients with Fabry disease and ERT was associated with a significant reduction in urinary excretion of these proteins. Therefore, these urinary biomarker models may useful as diagnostic tools for patients with Fabry disease, as well as for monitoring response to ERT [107]. However, there is still work to be done to identify a biomarker that truly reflects disease activity and progression, as well as enabling responses to ERT to be measured.
Conclusions
Fabry disease should be considered in the differential diagnosis of proteinuria of uncertain origin to ensure an early diagnosis. Proteinuria is a risk factor for the progression of renal disease and should be managed appropriately. Early detection of renal involvement should be achieved by regular measurement of GFR and urine protein excretion in all patients, male and female, using renal biopsy where indicated. Biomarkers play an important part in the assessment of disease activity and response to treatment in other lysosomal storage diseases, and could potentially aid the diagnosis and management of Fabry renal disease.
Early intervention with ERT may help stabilize renal function or slow its decline, when used as part of a comprehensive management strategy to prevent complications of Fabry disease. Although there are currently limited long-term, controlled effectiveness data, ERT with agalsidase alfa or beta has been shown to reduce the decline in renal function in short- and long-term studies in male, female, and paediatric patients.
Authors' information
Stephen Waldek retired in November 2011 and is working as an independent medical consultant.
Abbreviations
ACE:

Angiotensin-converting enzyme
ARBs:

Angiotensin-II receptor antagonists
BP:

Blood pressure
CHO:

Chinese hamster ovary
CKD:

Chronic kidney disease
CKD-EPI:

Chronic Kidney Disease Epidemiology Collaboration
ESRD:

End-stage renal disease
ERT:

Enzyme replacement therapy
eGFR:

Estimated glomerular filtration rate
FIPI:

Fabry international prognostic index
FOS:

Fabry outcome survey
Gb3:

Globotriaosylceramide
lyso-Gb3:

Globotriaosylsphingosine
PWT:

Modified diet in posterior wall thickness
MDRD:

Modification of Diet in Renal Disease
RAS:

Renin–angiotensin system
RRT:

Renal replacement therapy.
Declarations
Acknowledgements
The authors take full responsibility for the content of this contribution and thank Nikki West of Communigen Ltd, Oxford, UK (funded by Shire) for preparing the manuscript drafts.
Authors' Affiliations
(2)
Department of Nephrology and Dialysis, Belcolle Hospital, Viterbo, Italy
Copyright
© Waldek and Feriozzi; licensee BioMed Central Ltd. 2014
This article is published under license to BioMed Central Ltd. This is an Open Access article distributed under the terms of the Creative Commons Attribution License (http://creativecommons.org/licenses/by/2.0), which permits unrestricted use, distribution, and reproduction in any medium, provided the original work is properly credited. The Creative Commons Public Domain Dedication waiver (http://creativecommons.org/publicdomain/zero/1.0/) applies to the data made available in this article, unless otherwise stated.