Review
Open Access
Open Peer Review
This article has Open Peer Review reports available.
Transplant biopsy beyond light microscopy
Received: 7 April 2015
Accepted: 31 July 2015
Published: 7 August 2015
Abstract
Despite its long-standing status as the diagnostic "gold standard", the renal transplant biopsy is limited by a fundamental dependence on descriptive, empirically-derived consensus classification. The recent shift towards personalized medicine has resulted in an increased demand for precise, mechanism-based diagnoses, which is not fully met by the contemporary transplantation pathology standard of care. The expectation is that molecular techniques will provide novel pathogenetic insights that will allow for the identification of more accurate diagnostic, prognostic, and therapeutic targets. Here we review the current state of molecular renal transplantation pathology. Despite significant research activity and progress within the field, routine adoption of clinical molecular testing has not yet been achieved. The recent development of novel molecular platforms suitable for use with formalin-fixed paraffin-embedded tissue will offer potential solution for the major barriers to implementation. The recent incorporation of molecular diagnostic criteria into the 2013 Banff classification is a reflection of progress made and future directions in the area of molecular transplantation pathology. Transcripts related to endothelial injury and NK cell activation have consistently been shown to be associated with antibody-mediated rejection. Prospective multicenter validation and implementation of molecular diagnostics for major entities remains an unmet clinical need in transplantation. It is expected that an integrated system of transplantation pathology diagnosis comprising molecular, morphological, serological, and clinical variables will ultimately provide the greatest diagnostic precision.
Keywords
Allograft biopsyBanff classificationMolecular pathologyDiagnostics
Conclusions
The results obtained from genome-wide expression studies in kidney transplant biopsies indicate that the vast majority of differentially expressed molecules represent a stereotyped tissue response to injury caused by and overlapping between different disease processes. However, within this non-specific injury and inflammation response, identification of patterns correlating with disease activity and prognosis can allow for disease-specific information to be elucidated (Fig.
1
). Finding diagnostic specificity in large-scale molecular changes is as challenging as with non-specific morphological features like interstitial inflammation or tubular atrophy, which as well overlap between disease entities. It is unlikely that even the most comprehensive molecular assessments will provide absolute diagnostic precision. Although molecular assessment may be superior in some settings such as early tissue injury, which is essentially invisible to morphology, histopathology will always carry greater specificity and sensitivity in other entities like focal glomerular diseases. Therefore, a process for consensus generation will be needed to adopt molecular diagnostics (including related biostatistical algorithms) as it was the case for histopathological diagnostic criteria through the Banff process [
2
]. Given that relative small sets of genes can provide measurements of relevant aspects of different disease processes, consensus is needed in regard to which genes should be measured and which thresholds should be considered diagnostically and clinically relevant. But, deriving a diagnostic molecular signature and relevant diagnostic thresholds from large-scale, high-dimensional omics data is a major challenge in the absence of a true diagnostic gold standard for training and validation purposes. This is the case with transplantation pathology in that the Banff classification system is empirically-derived and consensus-based but not necessarily representative of true pathogenetic and biological disease mechanisms [
2
].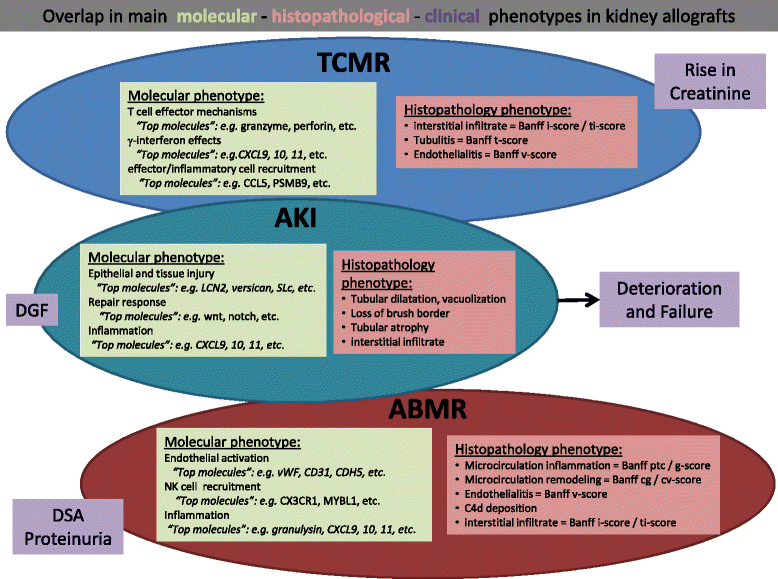 It is therefore likely that an integrated diagnostic system comprising molecular, morphological, serological, and clinical variables, as proposed in the revised 2013 Banff classification, will provide the greatest diagnostic precision [47]. The adoption of such a refined, integrated diagnostic system into clinical practice will require ongoing interdisciplinary multicenter efforts for conducting well-designed validation studies. With the recent availability of novel molecular technologies and user-friendly biostatistics tools, these studies can now be conducted both retrospectively and prospectively. This provides the opportunity for robust outcome-based validation of molecular diagnostics independent of current arbitrary histology-based diagnostic consensus.
Abbreviations
ABMR:

Antibody-mediated rejection
AKI:

Acute kidney injury
CTL:

Cytotoxic T lymphocyte
DGF:

Delayed graft function
DSA:

Donor specific antibody
FFPE:

Formalin-fixed paraffin embedded
TG:

Transplant glomerulopathy
TCMR:

T cell mediated rejection
XM:

Crossmatch
Declarations
Open Access This article is distributed under the terms of the Creative Commons Attribution 4.0 International License (http://creativecommons.org/licenses/by/4.0), which permits unrestricted use, distribution, and reproduction in any medium, provided you give appropriate credit to the original author(s) and the source, provide a link to the Creative Commons license, and indicate if changes were made. The Creative Commons Public Domain Dedication waiver (http://creativecommons.org/publicdomain/zero/1.0/) applies to the data made available in this article, unless otherwise stated.
Authors' Affiliations
(1)
Department of Laboratory Medicine and Pathology, University of Alberta, Edmonton, Canada